During 2007 to 2009 I was collaborating with a Sydney electronic musician-artist named Alex Strain. Alex and I were part of an online menagerie surrounding the music software project Renoise, which was the main tool we were both using to make music at the time. Between working on my own music, I was involved with a number of collaborations and was generally seeking to push myself by learning how to collaborate. Collaborations can be excellent way to take your creativity to exciting places you wouldn't usually go.
Alex was posting demos of his music online and a few things caught my ear. Not only was Alex virtuoso at break-and-bass music, but he also had a genuinely original melodic and harmonic sense about what he did, being both quirky and accessible. I offered to play around with adding ideas to some of his incomplete demos, and thankfully he invited me to do so! This began a steady exchange of music co-creation. Renoise allows for song projects to swapped between people worlds-apart easily, as long as you're both using agreed shared parameters – therefore song files would would be swapping back and forth between us in turns. All of the songs started with Alex's initial ideas, and then we'd both just follow our nose with each song without putting rules into the process. We'd work each unique vibe out intuitively as we went. While each of us did different things for each song, the aim was to have each finished song to be a complete universe in of itself without anyone's ego overbearing things. The results are, I think, interesting.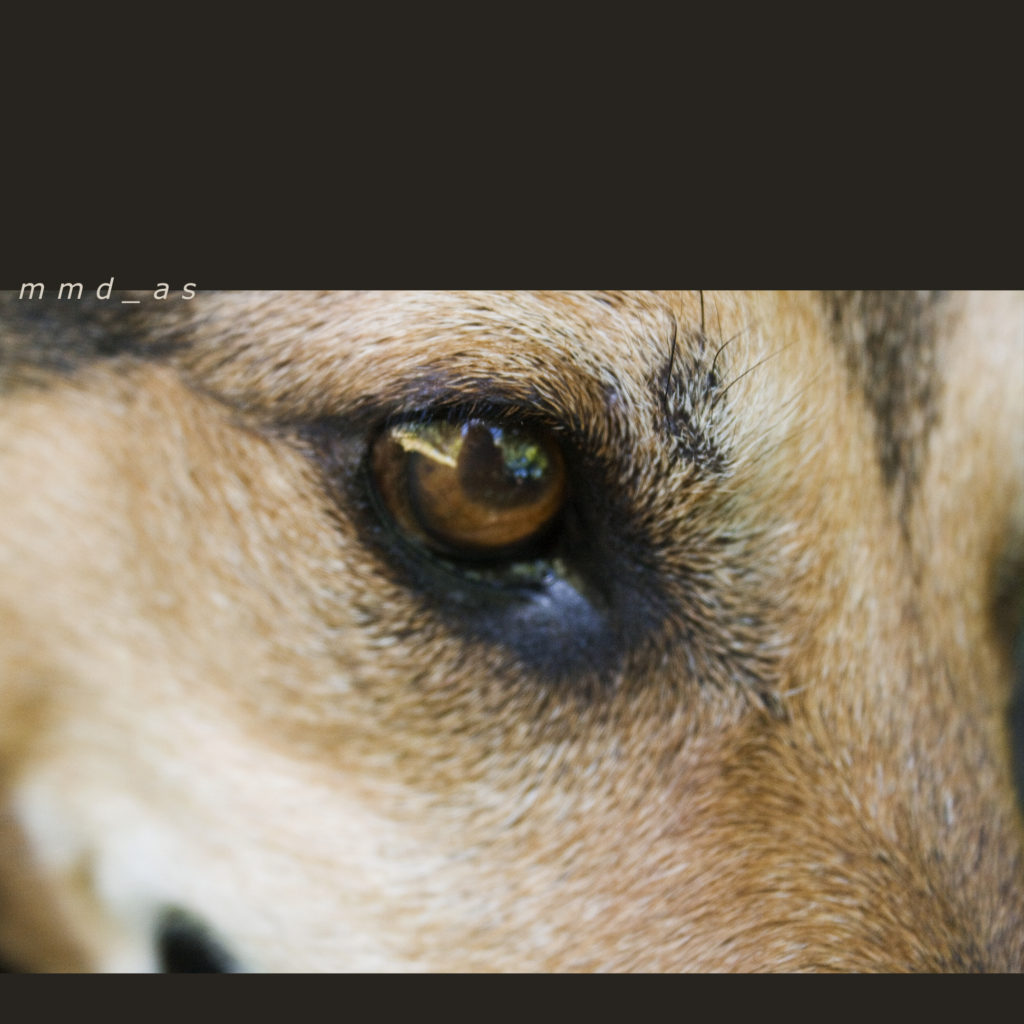 We took enough of the best songs to completion and wrapped them up as an online album release. We called it "mmd_as" and put fur-friend on the front cover (RIP Max). For a few years it was 'out there', but perhaps incorrectly buried in my old website, not indicating the sense that it was a 50/50 project, and needed its own space. We took it down from there, meaning to give it a home of its own, which then prompted the prospect of possibly re-doing the whole thing without all the flaws we grew to be worried about…
For lots of reasons, this re-make never happened as we both had a lot of other things going on in life with new situations. And then, unfortunately, I forgot about it. Until recently. For some reason I remembered it, dusted it off and let it hit me as if I wasn't involved with it. I actually forget how the hell we made many of the strange sounds in there, so it was like hearing it new for the first time. I was able to let go my of all my worry about it not being perfect = what the fuck was I thinking? Let's get it out there as is! I got in touch with Alex and he's been 100% up for getting the album back out there – awesome!
Of course, there's a part of me that screams inside when I'm putting out old music that isn't "perfect", particularly with crap vocals. It's like "hey world here's how crap I am please go ahead and destroy me make it god damn quick with nuclear hellfire etc". But then I listen to so many other artists and realise that I still like them even though they're flawed and imperfect too. So I just let it all go. Flaws are actually character and humanity, which I think isn't such a bad thing in this sanitised filtered bland VR technology obsessed matrix apocalypse we live in. I think the mmd_as music has got some soul in it. The mix and the mastering I did on it is a bit too thin and spiky for my current taste, and I'd do a million things better/differently (as Alex probably would too), but this album is an accurate snapshot of two people at a particular time.
To keep things easy and simple, we've put the music up on Soundcloud to begin with. For free. To be downloaded if you like.
Here's some further rambling about each track:
The 4th
That lovely swinging waltzy keyboard is Alex at his best, and a wonderful way to start the album. I love his little counterpoint melodies. It gave the sense of something cute, fragile, quiet, indoors, yet later expansive. It was such a harmonically rich and moving sequence of chords and melody that it made it easy for me to playfully paint everything else around it. This included a three-movement structure to use to tell a story with the lyrics. The vocals aren't the best, I could do better, blah blah blah, but at least I did not resort to any auto-tune. There's no auto-tune on the album at all. That nice lead at the end is Alex as well. I think we came close to an art-pop gem here, but not quite.
Backdropped
Now the percussion gets serious and we can hear a bit of Alex's talent with break-chopping. Alex came up with a bouncing hard-house sequence with these airy filter-sweeping pads that me had me interested with the odd way it twists and turns. I can't remember who come up with that windy pad-melody thing, but that set the mood for me to write lyrics. Lyrics dreaming of something better… Something about the unfairness of workplace injuries, worker control, the pressure to be flawless and squeaky clean: all were themes that got tossed into the spin cycle. I tried, in vain, to do vocals a bit more like hip-hop – what came out isn't hip-hop!
Dharawal
Dharawal is named after a national park that Alex loves to visit, which is also the name of the traditional owners of that land, the Dharawal People. Alex sent me a file with this name, which contained a two melodic parts intertwining. I loved the mood, feeling like it was outdoors and connected to nature, so I ramped up the dubby atmosphere to give a sense of expansiveness. I added in a heavy fuzzed bass-guitar line to increase the drama. I thought of an imaginary scene where some activists were on the run in the bush from a corrupt government force, so I threw in a little spoken word to cue off that theme.
Saint Santa
What if you never got what you wanted? Would you chuck a tantrum? Will the river of sugary soda pop ever run out? Who are you? A consumer or a human? This year, you're getting nothing. How do you like that? This bucket of madness all started with Alex's pad that for some insane reason reminded me of Christmas. I added a big slimy bass line. Alex added a wonky break-chop-up. There's a 99c rap in there (with thanks to MC Wrap Present) plus my bad vocals. Alex put in a baby crying, and some lovely little synth lines to keep the Christmas-jingle-bell vibe going. There's a lot of other weirdness in there where I can't remember who did what.
Uneasy
For me, this was the most magical song of the whole collaboration. Over a series of stormy nights we made this super-quick. It started with Alex doing a live jam on an electric piano. This really got me going as it sounded free and organic, yet strange, tense and twisted. Perfect for something with an ambient / cinematic feel. We swapped back and forth quickly, Alex developing the melody, myself adding in counter-pads, drone bass, and later a big atmospheric swell throughout the second half, built on one of Alex's phrases repeated and intensified. Early on Alex put in a recording of himself spontaneously capturing a moment of spoken word. I really loved how it set a strange and uneasy scene, so when the song shifts in the middle I put a similar spoken word bit myself to further the drama. We added dub echoes and weird glitches, cradled the tension.
Phoebe
Phoebe is the centrepiece of the album and the track we both put the most work into. According to Alex, Phoebe was the mythical embodiment of the free spirit. It's first track we worked on together, starting with Alex's masterful break-chopping existing in a demo that I heard, prompting me to suggest "hey that needs a dub bass line!" The first half of the song features Alex's tour-de-force more prominently, while the second half melts into more of myself holding a a loping dub-groove. However, we entirely mangled each other's stuff to keep it interesting all the way through. Alex put in this really interesting sample from some movie or TV show (I have no idea which), setting an air of tension regarding running away from something. I started thinking about what would drive someone to the point of running away? That primary fear of getting away from something that is wrong, something that demands to be hidden. Of course, I started to think about Pine Gap. I have friends that have been arrested for protesting there. I thought, let's do some vocals that tells a story of a protester that was there at Pine Gap, and then, at the prospect of being caught and tortured, had to run away from the deep state though the Australian desert. Phoebe is our hero.
Rare Bird
This is one odd creature. Alex came up with this aggressive morphing synth line, full of intensity and groove, with a few twitching counterpoints. It included a dub echo that at times sounds like some sort of swooping strange bird. Being a bird-nut, I thought: ok this one is going to be about a surreal dreamscape where the rare bird shows you the doorway to an inner-mystical-industrial revelation. At the time I was obsessed with frippertronic-style looping, and I sung a weird phrase and put it into a morphing glitched repeating loop. It's a little annoying, but I guess dreams don't always have to be pleasant? Later came a few improvised guitar lines to thicken the tension and increase the weirdness. It's definitely a challenging listen. While working on the song I could hear in my mind a very aggressive lofi techno kick drum hammering away on the beat with Alex's bass, beckoning me to put in there. Sometimes, when things are already weird, you've got to go further and not give in to the convention. So the song aches for a hard beat throughout, but I decided to put that kick drum in, absurdly, only just at the last moment. Thankfully Alex went along with my idea. Alex wants to make a remix of this song with the hard kick drum going throughout – so you may see this someday soon?
Jbhaxadi
Jbhaxadi has to be one of my favourites from the album, and it's really grown on me over time. It was also the trickiest and challenging piece for me to work on – took me quite a while to find a grip on what I could do to further improve Alex's amazing out-of-this-world groove. The name is alien, it belongs to another world that the song exists in. The first half is almost entirely Alex in bloom, where I just arranged the lead melody a little differently here and there to give the groove some length. The second half I opened the groove up, made the scene a little more epic, and added in some improvised guitar parts.
Effective
Effective is entirely Alex's composition, entirely Alex's genius. Alex came to me with this fully formed song and I had nothing I could add. However, originally it had a generic digital bass synth line which didn't have much character to it. Fortunately Alex had picked up a CS30 analogue synth, so I suggested to him that he come to where I was living at the time and I could help engineer a good recording of it for Effective. Alex did so, and this is the only part of the story where we did anything in the same space as each other! The new bass line come out with a warm punch that puts a cherry on top (or bottom) of a brilliant bit of music that is both dreamy and frenetic.
We hope you enjoy. Thank you for listening.