Goodness help those starting out in sharing their creative work these days. Before long, if not immediately, they will face an absurd situation prompting them to blame themselves and lower their self-esteem. Even the 'lucky' few exceptions remain beholden to the fickle insanity of the marketplace and shallow-fashions, until they are later discarded; or bite-the-hand-that-feeds with reclaimed human complexity. Further, the illusory platform of social media and the dominance of the bottom line eventually kill off all human passion, finally corruptively measuring art and the artist as deficient.
Between the lines of current cultural discourse a shadow lurks, insidiously whispering: If you don't make money or if you're not popular, then you and your art are failures.
May we take a hammer to this.
The argument put forward here is that the prevailing lowest common-denominators of conformist culture, objectivism and economic rationalism are failures when it comes to the measurement of art and its value. By looking at an emergent movement in contemporary art, it will be shown that there is a suitable foundation to introduce a wider and integrated approach to art measurement. For lack of better terms, it will be argued that spiritual and emotional measures, if used with a wise framework, are entirely valid, worthy, vital and urgently needed.

Visionary Utopias
Art, as a term for any creative act that goes beyond mere utility, lives in a state refusing absolute measurement, despite the best efforts of contemporary antagonistic forces in containing and controlling it. In broad western culture we have seen art expressed via modernism (solidarity movements to broaden creative horizons), fracturing into postmodernism (anything goes), only to more-or-less find itself in this century prompting empty questioning, detached fashions, and wondering if there will be such a thing as a 'meaningful movement' ever again. At the very worst, this has given rise to randomised ugliness completely dictated by financial market forces aligned with absurd courtesan-like rule shifting on who is to be profitable and why. Add to the mix a techno-social narcissism and the result is a brew of noise, redefining culture as content-fatigue.
So, as with other facets of contemporary life, there has been a counter-reaction to this noisey emptiness – a deliberate seeking for collective humanism and meaning that asserts a claim to a singular truth and goodness. For where art is at today, this counter-reaction is none better typified than the Visionary Art movement.
For those of us not versed in the vast spiritual thinking that Visionary Art draws upon to form its manifesto, it is perhaps easier to define the movement by what it organically counters. The western cultural awakening of the 1960s, a period that implicitly rejected the austerity and conformity of postwar systems of control, has since seen the machinery of contempt redefined centrist and right-wing programs to 'put a lid back on things'. While only having a few punk exceptions, the forces of commercialisation combined with postmodern non-meaning eventually triumphed in turning mass culture into a boring blur of whatever – witness the illogic of art markets and the hollowness of internet ephemera. 'Culture' is thus the stuff of consumption: an anaemic fist that holds our alienation-leash, preventing humanism, community, consciousness, deeper feelings, dreaming, truth, goodness, harmonious connection to the planet, and anything that runs contrary to economic rationalism.
Here is where Visionary Art finds its important counter self-definition: a common mission of creativity that rejects hollow consumerism in the inclusive search of new-consciousness goodness. In sum: creative liberty, guided by the spiritual principles of Unity and Wisdom. Or put as a feeling: You can join us, you will be included, valued, and shown fair attention for your creative journey discovering spirit.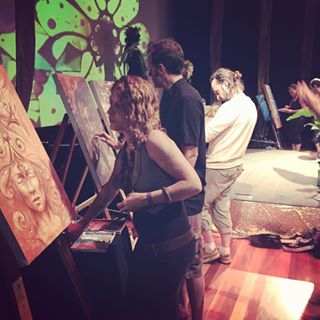 This is the enticement, the sell, that attracts those creatives suffering from mass disenfranchisement. So far so good: better than inane consumerism. But, once opted into, things then get a little foggy as to just what exactly constitutes a 'visionary movement' per the spiritual cannon being claimed. This lack of clarity shouldn't serve as a stumbling block to those curious to explore or join the Visionary Art movement; indeed there is much vitality that can be recommended. But, the central lack of clarity is a point of confusion preventing a fully healthy measure of art. Put simply: if one draws only selectively from astoundingly rich spiritual thinking, then one only can end up with a cultural movement that is left open to sowing problems where the gaps are. A smudge occurs between the spiritually-pure and ills of consumerism. Art and artists remain mis-measured. This can be extra painful as it becomes a cognitive dissonance between hopes and reality.
For such a lofty and aspiring movement, where does Visionary Art get this measurement of the value of art, and artists, confused? Surely in dealing with 'spiritual subject matter' there should be an inherent preventative from lesser-human-behaviour?
Unless one checks all the right boxes, the following is the eventual, subconscious, worst-case, message that one can end up with:
Sorry. Your art doesn't conform to the typical style or method we sanction. You're not young enough. You don't have the right looks, legs or genes to be part of our public presentation. You don't wear our uniform. Your work is too strange, too beyond understanding, too deep. We can't make money out of you. You don't bow down to our gate-keepers, toe the line, make sacrifice for our power structure. You're too self-doubting. You don't use drugs like we do, don't go to the parties we specify, hit the Like button when expected to. You don't give away all your privacy. You live in the wrong town, wrong country. We don't care who did what and when, history is irrelevant when there's a buck to be made. Thanks. Try harder next time or go home…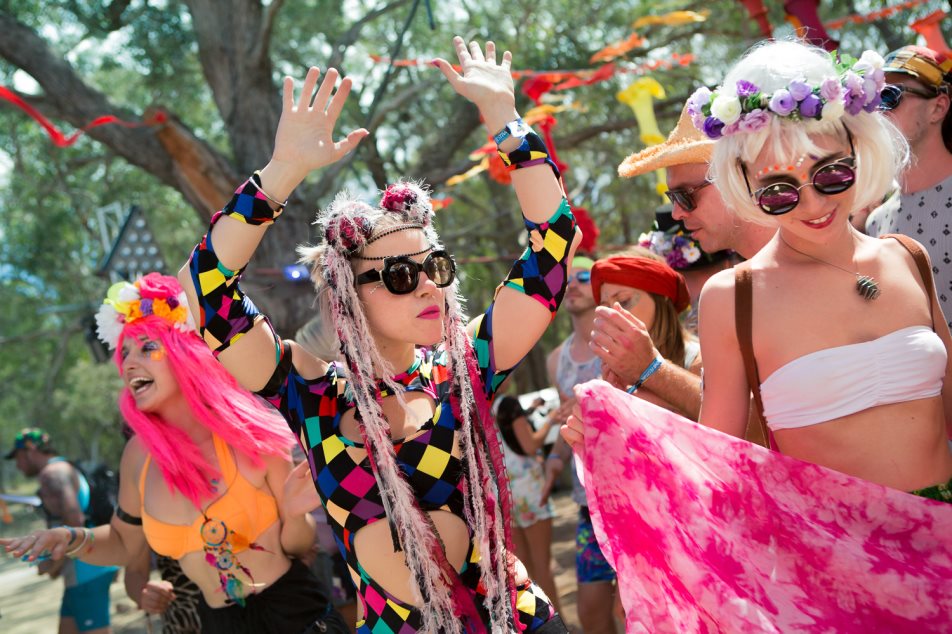 Thus, Visionary Art is not immune to human problems, and it has to struggle to exist in a difficult context of globalised finance and power. Again, it must be stated the purpose here is not to emotionally vilify the movement – it is rightly the vanguard of excellence for using culture to inspire collective consciousness evolution – however, the case here is that there is room for great philosophical improvement. All is not lost – something can be built upon. Therefore, it is too easy to simply point out that the movement has been co-opted by neoliberalism's viruses of entrepreneurialism, homogenisation, egos and power hierarchies; this is to miss an opportunity to explain why the confusion happens in the first place, as well as find a better measurement of art.
To do this explaining, an exploration of the very inspirational knowledge, the teachings of ancient spiritual wisdom, that Visionary Art aspires to, must be done. A more discerning approach is possible rather than simply wishing 'why can't we all be nice to one another?', requiring a little deeper, perhaps unpalatable, homework. This can especially be said to those currently holding the levers of power.
The Teachings of Ancient Wisdom
An argument for taking non-materialist (or spiritualist) thinking seriously is not going to be put forward here – simply because: if the reader is unable to stomach the prospect of 'visionary art' (or even art at all), then it is likely that text-to-here remains unread. What is crucial, though, is to choose what is most relevant to the task of clarifying the measure of art, as the field is overwhelmingly vast. It appears that Visionary Art collectively draws upon this field with a free-range method, and rightly so given its aspiration to mental-liberty. Given this, where can the movement find the richest seam that guides toward common harmony and clearest measurement?
It cannot be said here that the research done in preparation has been completely extensive – it is just not humanely possible to survey the entire breadth of what is out there: qualifying as tenable and wise, from the ancient to the cutting edge. However, the motivation to put forward a case is due to an attempted comprehensive grappling with the evolutionary aspect of esoteric literature. This body of ideas goes by many names. To some it is known as the theosophical teachings, the ageless wisdom, astrosophy, or the thinking of the new-age. Exisiting in eastern discourse for millennia (and hidden within secret western organisations), this profound 'secret doctrine' regarding our spiritual existence took a step forward into western discourse, with writers such as Blavatsky, Bailey, Roerich, and later focused by Laurency.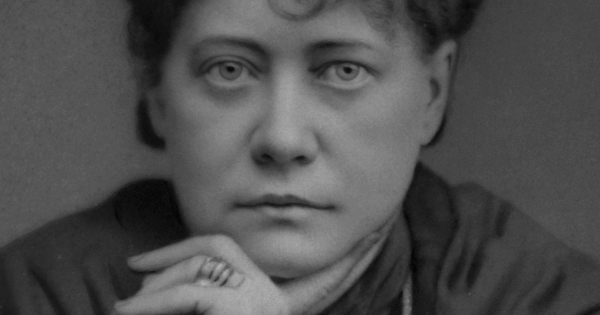 Unlike contemporary materialist science, esoterics proceeds from the premise that there are three fundamental aspects to reality: matter, motion and consciousness. Or in a nutshell: there is more to life than just stuff moving around; and, that the consciousness aspect implies there is more to discover than our narrow focus on objectively-measurable-matter allows for (e.g. emotion and spirit). If Visionary Art were a person, it would hopefully be nodding its head in agreeance.
Out of the this study of the conscious aspect, as it integrates with matter and motion, a whole range of exciting hypotheses appear to be tenable. Framing this consciousness development is the argument that humanity cannot solve the problems of life on its own, and therefore, in a variety of ways, seeks the light-guidances of higher consciousness in the form of scaled-down 'straight-knowledge'. Much of esoteric literature inherently claims to be the authoritative locus of such scaling-down of ideas appropriate for humanity's current level of evolution. Whether or not one has serious engagement with this claim is for them to determine and test, however: engaging with the vitality of the ideas themselves shows their potential usefulness in solving human problems.
The following is a selection of such 'scaled-down' ideas applicable the measure of art.
Human Envelopes
If one was to impose a definition of human existence upon a Visionary Artist as "your life is nothing more than the firing neurons of your brain", then expect defiant laughter in return. As far as esoterics is concerned, life and existence is so much more than that, but how does this practically relate to art? Artists are often brilliantly enamoured in the mystery of things, at best leaving them open to all sorts of fascinating fancies, and at worst closed-minded cultism.
Esoterics attempts to put this mystery-navigation into a structure, without constraining the liberty of exploration. Specifically that: an incarnated human being is made up of envelopes, including, as well as more than, the physical self. Think of the layers of an onion as an abstraction – the apparent core is the dense physical body, but the rest of the layers are symbols for other systematic parts of ourselves. These other parts are not immediately obvious, hence why they get overlooked.
For purposes of discussing art and culture, the following broad 'layers' of the human-onion are relevant to our art discussion, from the highest to lowest envelope:
The Mental Envelope
The Emotional Envelope
The Physical Envelope
These 'layers' also correspond to the lowest three intersecting 'worlds' or planes of existence (e.g. poetically put: the earthly dense visible, the ocean of feeling, the blaze of thought). Respectively to above:
The Mental / Causal World
The Emotional World
The Physical World
Each of these worlds are subdivided by seven.
The higher envelopes and worlds contain the lower, hence the symbolism of the onion. All envelopes are based upon different configurations of matter, motion and consciousness.
(A further explanation of this hylozoic system can be found throughout Laurency, concisely summarised here and expanded here. Furthermore to Laurency, there exists excellent ongoing exploration and clarification of these and other esoteric subjects at Vital Harmony and The Planetary System.)
The hypothesis is put forward that different humans are at differing levels of evolution in each envelope: hence a large part of esoterics is about how humans can activate higher and higher subdivisions. This activation is largely done by consciousness development. Human attention is centred in any given envelope at any given time, and can have a disposition to be fixated upon a particular level (especially if the surrounding culture encourages this). The lower the consciousness development, the lower the envelopes are activated, the more obvious 'human problems' there are. Problems are a means for evolution, as humans work out what correctly accords with Natural Law.
Higher envelopes have corresponding centres of activity found in the physical envelope, or the organism. Two obvious centres are important for the current discussion of art: The Mind centre is the locus of the mental envelope, physically corresponding to the brain; and the Heart centre is the locus of the emotional envelope, physically corresponding to the muscular heart. So, it is a useful short-hand to speak of the Mind and Heart as encompassing concepts for the mental and emotional envelopes as they are grounded, or anchored, in the physical. It also puts a valuation into each concept, as they are both integral to the whole, multi-envelope, human.
Esoterics attempts to put an explanation to the developmental gradation up through subdivisions within each envelope, particularly as the evolution of Mind and Heart have primary bearing on the health of culture.
With the Heart, the lower four of seven subdivisions are characterised by grades of Repulsive feelings, while the upper three are characterised by grades of Attractive feelings. Through development, achieved through right-living, humans activate higher levels of Attractive emotion – although regression to the Repulsive is possible without integrated guiding activity with higher envelopes. Notions, that are common themes in Visionary Art, such as peace, harmony, unity, sisterhood/brotherhood, reticence, and justice are examples of the highest qualities of the Heart. That the world needs these cannot be stated enough.
With the Mind, the subdivisions take on a different characteristic. The four lowest levels correspond to levels of human thinking, the lower the more common. These are, from highest to lowest:
System Thinking – thought in closest and most sophisticated harmony with reality
Perspective Thinking – thought oriented in empathetic complexity
Principle Thinking – thought assembling ideas to form argument
Inference Thinking – thought from grounds to consequence.
The lowest two, Inference and Principle, have the general liability of being open to related Repulsive feelings (lowest four subdivisions of the emotional envelope). The higher two, Perspective and System, generally attempt to integrate related Attractive feelings of the Heart (highest three subdivisions). The lower are subject to impulsivity, while the higher are earned though consciousness development.
An overall higher state of envelope evolution is an integrated activity using the highest possible in both the Mind and Heart, along with influences from even higher planes.
The current state of western power can largely be summed up as having a strong focus in the lower mental envelope, with little validation given to the existence of the higher emotional envelope at all. The west clings to its mental fortification, bound up in the cold structures of bureaucracy, science, academia, language, law, finance, and so on. There are complex reasons as to why this is the case, some of which will be discussed later. But suffice to say, the Mind has a free-pass in our current times to bully around, take dominance and prop up power-structures. Emotions are made to play second-fiddle. Little wonder then that art, predominantly centred around emotional expression, is given a cruel measure.
One would think that Visionary Art actively fights this problem, but a flood of rationalised and homogenised examples would seem to indicate otherwise.
This can be seen as a case of Principle Thinking trumping Attractive activity – strict and selective rationalism illegitimately ruling against healing and unity. Emotions do always play a part, albeit in a hidden way due to the likelihood that they are Repulsive and separative. Hence the intellect posing as rational triumph, erudite and masterful, when really concealing a malicious and contemptuous hubris or sophism.
To truly measure art and the artist, the highest potential of the Heart has to be incorporated, at the very least. After all, according to the hypotheses of esoterics, the Heart is an integral part of a multi-part human existence, pivotal in evolution. Peace and harmony cannot be achieved without the highest of the Heart, and art can be one of the most potent activators of Attractive emotions. Thus, the potential measure of the greatest art for humankind is profoundly valuable.
This orientation is best championed in Agni Yoga:
"One should understand the fiery path as a path to the Highest. Not words, not fear, not habit, but the communion of the heart is the most enduring manifestation, the one transmitted from time immemorial. So it is the rainbow bridge that will bring us closer to the other shore. How many controversies rage on regarding that shore, but it does exist, and one must find the path to it. Not dried up autumn leaves but the flaming heart will cross every bridge. A person who does not think about the birth of the heart's fire is ignorant of the upward path; he is unwilling to look upon it in a luminous way."
– Heart, 256.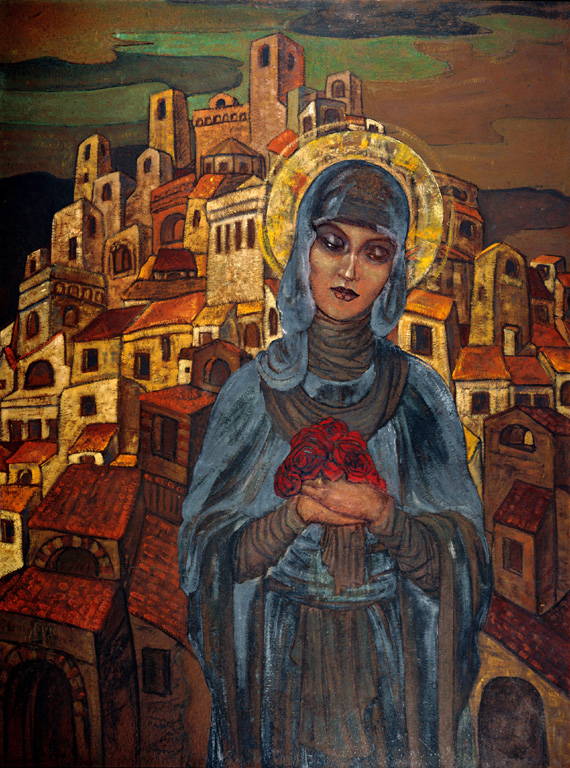 Objective and Subjective
Esoterics maintains that there are harmonies underpinning everything that can be discerned as order. These harmonies are points of resonance, either concrete or abstract, coalescing from deeper cosmic harmonies or vibrations. Visionary Art often takes great joy in visually exploring this cosmic order by representing sacred geometry or in principles of design such as the Golden Mean. Discernible patterns are also relevant to the aforementioned human envelopes and planes of existence – hence the mysterious division of seven as an example. Another pattern is the disposition to objectivity and subjectivity.
For those unfamiliar with the terms, objectivity and subjectivity refer to ways humans perceive reality. Objectivity claims to relevant concrete factual truth (e.g. water wets the hand), wheres subjectivity allows for an unfixed range of interpretive perspectives (e.g. "I like this blue painting because it I like blue, whereas you don't like this painting because you like red").
Esoterics states that there is a mysterious harmony of numbers that corresponds to the objective and subjective (see Laurency, KofL2, 5.12). Generally speaking, odd numbers (1,3,5,7) correspond to the objective, while even numbers correspond with the subjective (2,4,6).
Overlaying this idea with the previous idea of planes of existence, produces the following correspondences:
3 – Mental / Causal World – predisposition to objectivity
2 – Emotional World – predisposition to subjectivity
1 – Physical World – predisposition to objectivity.
This can be partly verified by the following three example points: 1. The body is objective to the extent that if externally endangered enough it will die; 2. Feelings are subjective in that everyone reacts to events differently; and, 3. The Mind can grapple with relative objectivity, which in the purest form is by numbers and mathematics (e.g. 1 is 1 and not 2).
Due to mis-perception and lack of consciousness development, fictions and illusions are possible in the mental and emotional envelopes, especially when the Mind makes the presumption of the objective.
Esoterics also maintains that an ordered pattern extends upwards beyond the mental / causal, encompassing 49 planes of existence – hence the above list should actually be ordered as 47 – 48 – 49 to show that consciousness development proceeds along an upwards order to the ultimate evolutionary world of 1. The odds and evens still apply with these reversed numbers.
If this large scale is the case, then human perception and consciousness has a tremendously long way to go, and it is far off pulling the type of authoritative mental certainty that it pretends to posture. If the mental has a predisposition to objectivity, but lacks the substance of truth, then all manner of faulty mental arguments can be made to hold power over a situation. At worst, this is the machinery of fraudulent objectivity out of control. It has contempt for the subjective. Its loathing for art is equal to its lust for money and power, thus it fortifies to protect only itself. Artists have little choice to be slaves and beggars, cowering at the feat of the odious monstrosity. The little humans are left to contend for mere crumbs, going through demoralising routines such as grovelling for a diminishing pool of grants, subject to the punitive shackles of deliverable outcomes, KPIs and productivity dividends. Or worse still: paying outrageous amounts of money for artistic knowledge that should be free for the common good.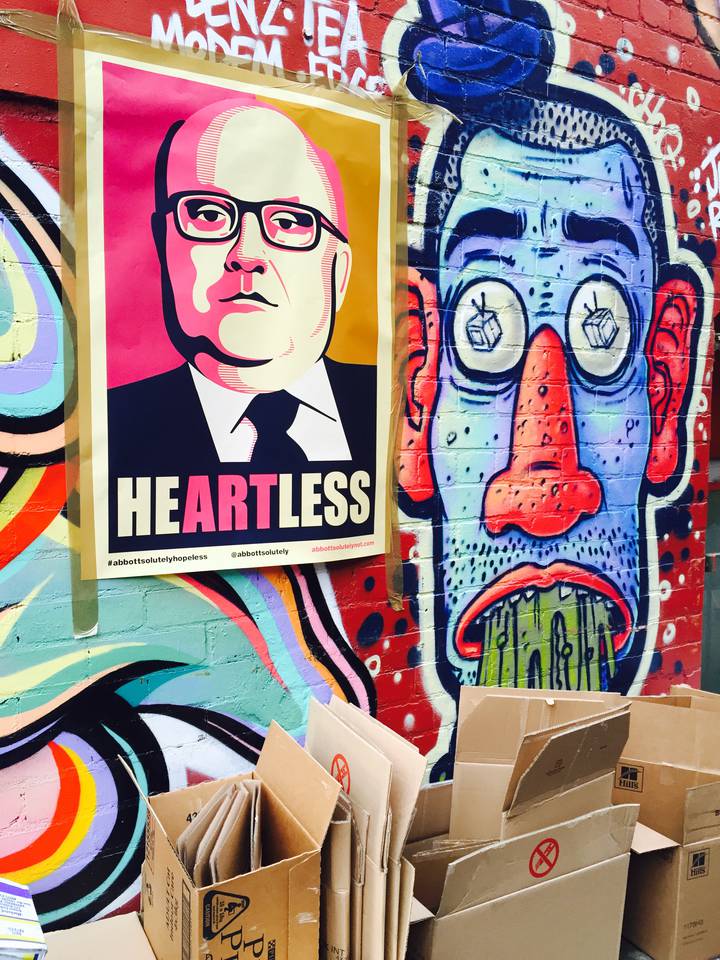 Too often art and artists are casualties of this. It is especially grim when art is invalidated due to not being economically viable, i.e. not fitting into the financial objectivism box, refusing to be scientifically ordered and broken down into numbers. Western culture, especially as it relates to the dominant powers at work, holds art as a suspect-activity, just as much as these authorities wish to crush out all emotions that do not uphold their power structure. Visionary Art (despite attempts at impressive exceptions) cannot escape this concealed yet all-pervading power – a career is dependant upon financial conformity and the competition of the marketplace. Some will sell, others will not. The more the focus is on marketing, the less it is on community and all the aforementioned noble aspects of the Heart.
The focus is also taken from what Visionary Art aspires to the most – the ability to commune with planes of existence higher than the mental: the Causal and what esoterics refers to as the Essential (47:1-3 and 46 respectively). Consciousness, subjectively at first, comes in contact with these inexplicable domains, these things that are beyond language: the vision; true inspiration; the numinous; cosmic intuition; invocation; and possibly much more. The wide quest of Visionary Art is to be in service to powerfully expressing these luminous things without letting the ego get in the way. Artists are therefore torn between the path of seeking this spiritual channelling, and lowly marketing duties, such as: producing enough digital content to remain visible; build a brand; differentiate in the marketplace; curate selfies; network with the right gate-keepers in the right way; and, generally appear unthreatening and conformist to build Likes and Shares. The struggle is real, whether artists can articulate this or not. It is easy to see the leaning towards the envelopes and planes that lend themselves to the superficially objective, giving little or no valuation toward the humble process of the subjective.
Scientific-rationalism would have us feel that if something cannot be objectively proven, then it is a useless fancy. It effectively says that subjectivity is a childish distraction, that the emotional and spiritual are invalid. This is utterly not so. The quest for Wisdom, correctly apprehending the knowledge of reality, must incorporate the subjective as a starting point, then a journey toward a full consciousness of mastered objectivity. The objectivity-hungry Mind is elevated by the highest subjectivity-alignment of the Heart. Mind and Heart open to even higher consciousness opens a whole new level of subjectivity (e.g. from the Essential).
Art is a valid orienting process in this evolution work. The measure of art is to look at the represented vector between the noble receptivity of the elevated Heart, with the efficient guidance of the Mind, and receptively exploring the above and beyond. It is most certainly not about having 6000 Likes, sexy poses and connections with the right venture capital investors.
Masculine and Feminine Balance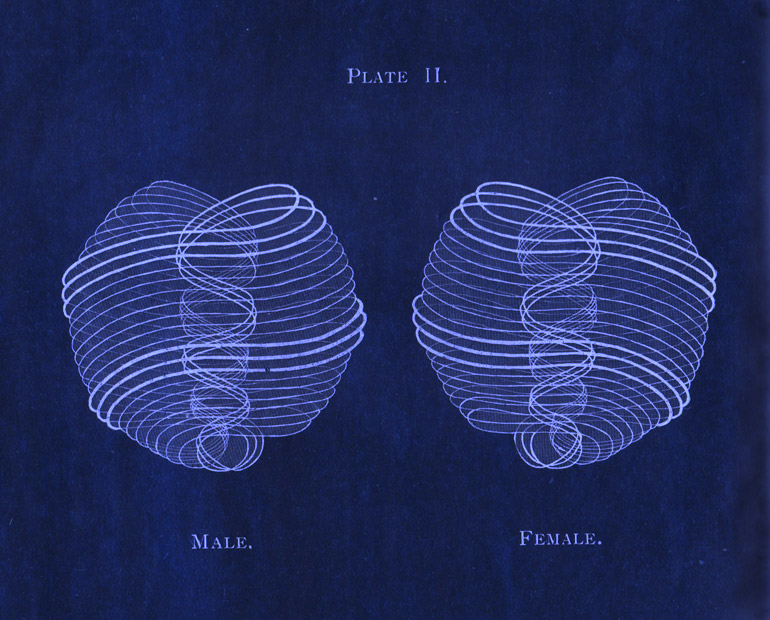 Visual art, especially the visionary sort, is so much more than just an image on surface. There are invisible energies at play. Due to context and human bias, certain energies are given favour over others. The final esoteric concept presented here is that of a balance of energies, broadly gathered under two halves: the masculine and feminine.
This enormously useful concept need not be difficult to understand: after all, these subtle energies are part of our own human constitution. Esoterics puts forward that while humans have physically gendered bodies, the masculine and feminine are within us all as subtle energies of active-direction and receptive-sensitivity. Oriental thinking gives this the name of yin and yang – two cosmic parts integral to one another to be balanced. Or, from the astrosophical point of view: sun (purpose) and moon (reflection); or, mars (decisiveness) and venus (love-nurture). A physical man, for example, can tap into feminine energy as much a physical woman can tap into the masculine. Harmonies are achieved when these two aspects are in energetic balance, both within and without. Easier said than done.
Relating to the earlier sections above, the masculine and feminine have direct correspondences to other esoteric concepts. As energies, the masculine leans toward the objective and the Mind, whereas the feminine leans toward the subjective and the Heart. This is not necessarily a hard and fast rule, but serves as a tool to analyse what is going on in culture and power.
Esoterics is very clear that the 'coming new-age' will feature strongly the leadership of women, a kind of 'spiritual-feminism' if-you-will, due to the predicted growing numbers of women getting in touch with the feminine energy and the Heart. It should then be no surprise that Visionary Art has a strong honouring of female inclusivity and representative symbolism. This is a core part of the appeal of the movement, enticing sensitive creative women to participate, as well as sensitive men, who wish to visually honour the divine-feminine spirit. At least this is a surface vibe one can discern.
Perhaps by this point it can be guessed that the following word would be coming: However… Again, pause must be given here to pay genuine regard to the Visionary Art movement – where else can it be found that the feminine is given such healthy liberty? Workplaces? Executives? Politics? No, no and no. But. A deeper scan of what art is popular and what is not reveals that this movement too has a subtle leaning toward the masculine. This masculine element, the energy that guides the construction of the art that becomes popular, could be characterised in the following way:
An aversion to the purely abstract, favouring order.
Overt representation of symbols, particularly literal reproductions of geometric concepts.
Leaning toward photorealism or forms of digital construction.
Little as possible deviation from compositional symmetry.
Flat presentation, focusing on directed idea pushing, as opposed to being spatially-dimensional and indirect.
Reliance on faces facing frontwards. The piercing unavoidable gaze of eyes.
Sometimes presenting the female form that is obviously pleasing for the male-gaze, even sometimes one step removed from being 'commercially sexy'.
An indication that artworks are bound by mental-concept, backed up by research, or some sort of wordy and definitive artist's statement.
The first point in particular touches on an esoteric vein – the feminine energy is sometimes wrongly accused of being chaos in opposition to order. In the case of Visionary Art the feminine energy can be as vital as subjectivity or the Heart; this is creativity attempting to function as a receptive practice to high-emotion and Essential-inspiration energies. The result maybe be delightfully and beautifully abstract, but definitely not chaos proper.
This is no case arguing that the above regarding the masculine are valueless attributes of given artwork. Again, the liberty of mind with Visionary Art is a wonderful thing, and if paintings bound in masculine construction happen, then this can only be a triumph of liberty. It is when those sorts of paintings become the predominate trend, so much to the extent that they become a conformity-requirement in order to maintain an existing power structure. It is then that something is at odds with the ideal of liberty. Is is said that emulation is the sincerest form of flattery, but when aspiring hopeful artists churn out cookie-cutter work in fear of whether it passes the conformity test, it can only limit the prospect of genuine vision coming forward. Art then becomes a mode of production for a market and ideological power hierarchy, one modern feminists would call a patriarchy.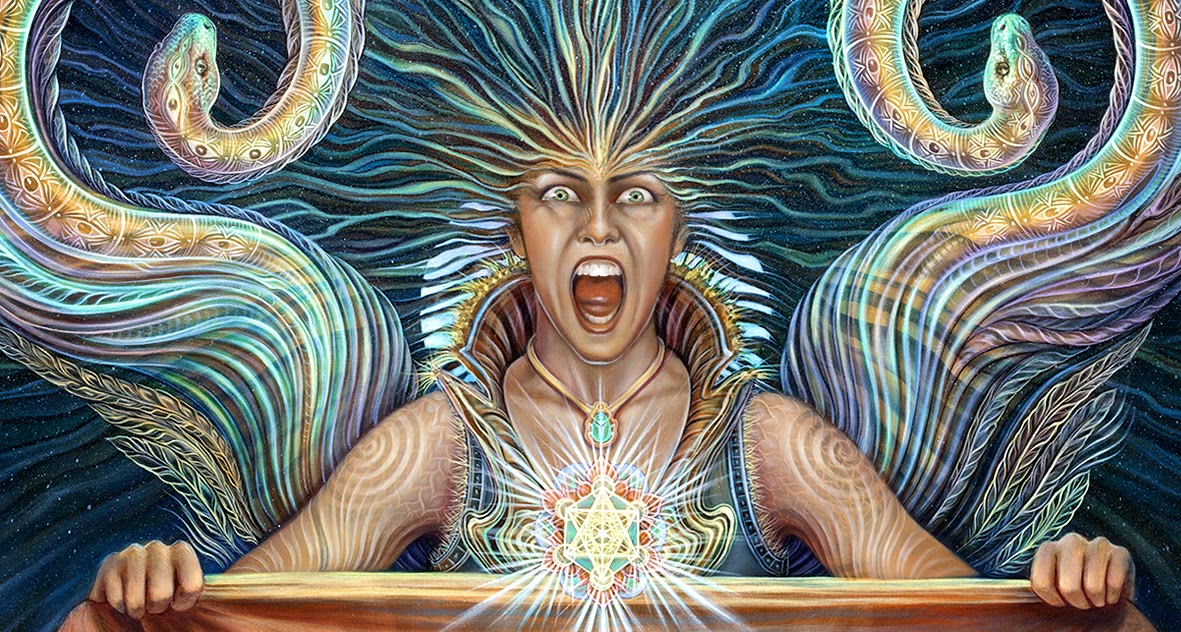 Visionary Art is not a conscious patriarchy – as stated earlier, its stated aims of equity are there for everyone to see and admire. The tension is subtle, and it is more accurate to claim that the movement is still seeking a balance between the masculine and feminine, and is unavoidably influenced by the same tension going on in broader global culture. The masculine's penchant for control (the misanthropic licensing of order) has its effect in mostly subtle yet binding ways, and thus art's measurement become subordinate under that dogma. The antidote for this is for the powerful, those elite few whom have the influence, to lead with action on rebalancing the masculine and feminine in any given situation, structure or system. How this is conceptually done is by the masculine to let go of arbitrary authority, and hold space for the feminine to be expressed and explored. This is all kept in check by a striving Heart and Mind working in harmonious concert. Worthy of some conscious work, the results could be remarkable and a revolution for liberated creativity.
Importantly, an overpowering masculine energy is deeply part of the contemporary problems with international geopolitics. Visionary Art is tangled up in this. There are opportunities to untangle and rebalance where the elite can forgo the exploitation of power; a power which unconsciously relies on dominance in the international pecking order. It is a resistance to replicating old colonial advantage-taking, instead stewarding a global-inclusivity that values and supports the broadest range of creativity where ever it shows up. Nurture instead of conquer.
The Heart is valid. The subjective is valid. The feminine is valid. All these treasures need not be unpopular, but the noise-soup of contemporary life clings to lower Mind, selective objectivity and the Machiavellian masculine. Variety is the spice of life, so a little yin and yang balance would go a long way. The treasure that waits is the numinous.
Visionary Measurement
May there be dreaming of the day that art lives in a culture where its greatest potential is prized and understood rightly for its importance as part of human evolution. An artist will never have to think "will this make money?" or "I have failed because I have made no money". Or worse: "If I only work harder, I might be given some crumbs of valuation." Instead, there will be a project, as utterly serious as science poses to be, to let creativity go where it needs to, so that it may show us collectively the visionary pathways forward into an evolved future.
Refusing to use certain muscles only leads to atrophy. When the Body and Mind are left to dominate our attention, the Heart and access-to-spirit withers, and thus subjectivity and the feminine are passed over. The muscles must be put to use, otherwise the ongoing train-ride to dystopia will be ignored by endlessly Liked pictures of genetically-acceptable humans smiling, parroting mantras of entrepreneurial market exploitation, and ego-satisfying maintenance of power. The remedy is open-hearted, open minded, consciousness development; which makes art so important, both as self-discipline and public-gift.
Any number of practical improvements can be made to art movements by applying the light of esoterics. Opportunities exist to prevent separative behaviour by broadly unfixing concealed power structures, creating fair international solidarities beyond money and markets, honouring diverse substance over style, and celebrating the engagement of the mysteries. It is a matter of applying whatever applicable Unity-consciousness and Wisdom to each situation, not controlling through gatekeeping or the monetisation of knowledge and experience. In the dying days of neoliberalism the last vestiges of healthy culture have been so hacked-into that there remains a 1% chance that an artist can have a 'career' that keeps the inequalities of capitalism at bay – so why not collectively work toward a 99% solution? Why not build a new-era community true to ideal form? Why not actively find the margins where creative liberty can flourish outside of the contemptuous systems of control? Why not try to manifest the justice of the visions into real life?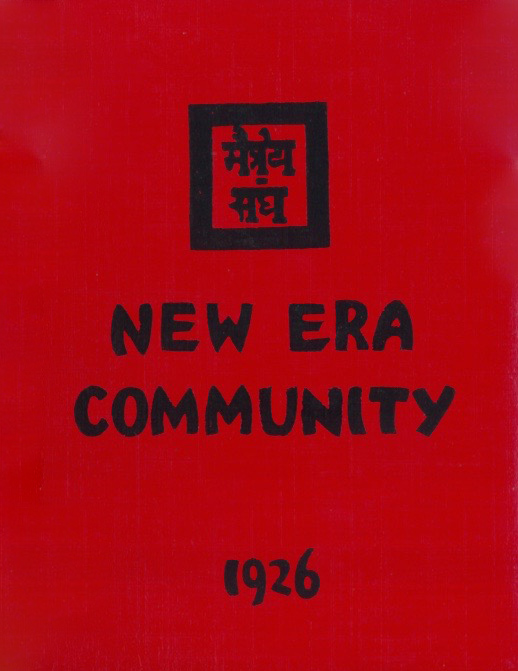 Of course this can be seen as an outrageous ask. Economic pressures are so great, particularly in some nations, that people need to survive however they think is best. The last thing anyone needs is a schoolmaster hovering above saying that the esoteric i's aren't dotted. And no one should take any of this as authoritative lecturing – this could just be empty, wordy nonsense and know-it-all hubris. The reader is invited to make up their own mind – a point which esoterics holds in high esteem as part of the Law of Freedom. No 'higher ground' is assumed. The simple reasonable request is that if that the visions earned afford valued wisdom, then why not put that to use to further protect and nurture the creative spirit?
May we have transparent discussion of these questions. To start things off, our core point is as follows:
The measure of art, and the artist, must combine the visionary with the esoteric. Only then can creativity thrive with fullest liberty. Only then can artists can feel that they are worthy and belong to something in a deeply meaningful way. Only then will a new culture bloom, laying the foundations for a world of profound humanism, and later true ideality.